Slowly Slowly + Totty + Bec Stevens @ 170 Russell 14-12-18
"There's special connection people share with these songs. There's a sense of home in the words."
Its wet and muggy as hell as I walk through the City on this dreary Friday night. Dodging people through Chinatown I attempt to keep my head dry. As I approach 170 Russell I'm pleasantly surprised to see a mass of people queueing out front and around the corning for tonight's show. I find my place in line and begin to gather my thoughts. How did a young local band blow up like this? What is it about their music that strikes a chord in people and earns them sold out shows nationwide? Well... I'm excited and in hindsight, about to get schooled.
I enter the room already buzzing with anticipation and begin scouting my post for the night. As I scan across the room I'm baffled that it's already half full and the opening act is nowhere in sight. I squeeze onto a bar and watch others find places and lock them down for a big night.
The lights dim and out strides a group of hip fringe sporting Melbourne twenty something's. Wide glassy 80's guitars ring out over slow, tasteful walking bass lines and pounding drums as they set the mood to open their set. Bec Stevens' warm and husky voice (channels Sheryl Crow and Missy Higgins) breaks through the mix and breathes story into the songs, then belting into choruses that lift and bring a hard edge dynamic to the songs. I enjoy the slower paced attitude and hard hitting rhythms the band brings. Banter between songs are funny and awkward as Bec shared of her anxieties and nerves on tour. Overall a beautiful and emotive performance, which the now packed out room was highly receptive of.
Next to the stage are Wollongong's grunge/rock trio Totty. Thick sludgy guitar, driving fuzzed out bass, thumping drums and a slur of droning to screaming vocals encapsulate a primal, heavy and melodic sound. The room is elevated immediately and the movement in the audience is a telltale sign that people are here for a big night. Thick country accents and scattered attempts at storytelling collide for hilarious banter between songs. Head-banging, feedback screams and not so poised bass guitar stances create a full and vibrant stage presence.
The crowd is getting rowdy and feeding off the high energy. On a side note; I'm deeply appreciative and excited by the rising spotlight of talent, diversity and leadership of women in Australia's music industry. I couldn't be more proud of those who have worked so hard to earn equal respect and status, especially in the rock and heavier sides of music. It's a vibrant and important time to witness and be apart of.
We're well into the night, the stage is dark and the packed out room is bursting with anticipation for Slowly Slowly. I'm nestled in behind the centre jade bar with the clearest view. Smoke and lighting set the atmosphere and an up roaring applause welcomes the local heroes to the stage. From the opening strums, the audience is captivated. At the opening line the crowd is singing every word, unprovoked. Lyrically Slowly Slowly's songs are not simple, they're elaborate, sophisticated and at times a mouthful, yet people are reciting them back like scripture.
Bright, crisp, crunchy guitars cascade over huge drums and cymbal wash, glued by driving bass, it all comes together to support frontman Ben Stewarts angelic voice (goddam that vibrato!). Whispers turn to violent screams, but it all fits together in this collage of emo, rock, punk and pop sounds. Bright warm lights set the stage glowing and the boys can't wipe the grins off their faces. Celebration is thick in the air, tonight is clearly monumental.
Testament to Slowly Slowly's artistic expression, clear in their aesthetic, merch and media; projected on the screens behind the band, lines of poetry hang in a collaboration between the performance and song 'TalkTalkDie'. The set naturally ebbs and flows, delicate melancholy moments filled with reflective lyrics, huge anthemic choruses that the collective bodies in the building are singing with conviction. There's special connection people share with these songs. There's a sense of home in the words. It could also be largely due to the boys humble and down to earth demeanour in the songs and on stage. There's no lack of energy on stage either, with all the headbanging, hairwhips and jumping around, the band matched the crowd move for move. At halftime Ben Stewart performs a handful of solo songs accompanied by cello, including the anticipated new love song 'Jellyfish'. Blasting through more songs, the night's nearing its close. The band return for their encore, firing confetti cannons and a wash of lights as they close the night with their acclaimed single 'Ten Leaf Clover' concluding their sold out 2018 headlining Smile Lines Tour.
Sitting on the tram returning home from the show I'm left buzzing with inspiration and hope for the future of music. I'm so proud of Slowly Slowly and that their hard work and good honest music can fill a room of passionate people, coming together to celebrate and share the connection of art.
Full gallery below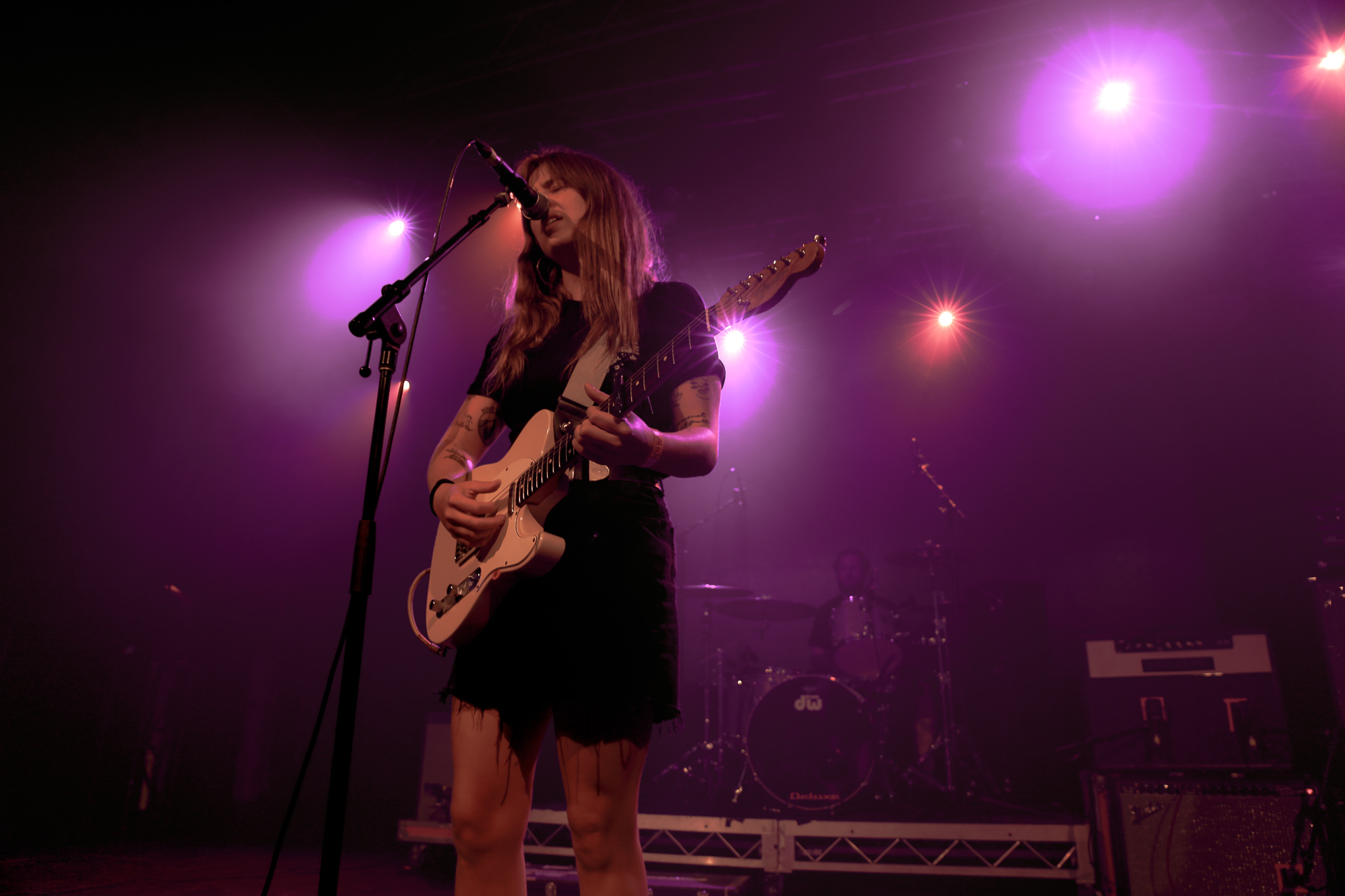 Ditch This Magazine